Newsletter
Remembering Hurricane Katrina Ten Years Later

On Hurricane Katrina's 10th anniversary, I wrote a blog entry for TCU Press that describes my reasons for writing the novel Many Rivers to Cross, my trip to New Orleans with my son post hurricane, and my research and thought process in constructing the story. Here is the link:

TCU Press blog


My Dad in World War II

World War II ended 70 years ago this month, and I've been thinking about my late Dad and his three brothers who served in that war.

My Dad was a member of the 33rd Cavalry Reconnaissance Squadron in the 20th Armored Division, which landed in France in February 1945 to provide support and replacements for American armored units that had advanced into Germany.

The 20th Armored Division saw military action and captured German soldiers. It pushed through Belgium and entered Germany in April 1945, eventually making its way into Austria at the war's end.

The 33rd Cavalry Reconnaissance Squadron's mission was to use its platoons of scouts to provide information on the enemy's whereabouts to the tank and artillery units. Dad was a member of a half-track team in one of the platoons, but as a Tech 4 code clerk and radio operator, he spent most of his service in a command Jeep, encoding and decoding messages for the commanding officer.

One of his most memorable experiences was his participation in the liberation of the Dachau concentration camp and its sub-camps near Munich.

When his squadron entered an all-female work camp, probably the sub-camp Unterschleissheim, his commanding officer warned his men not to make physical contact with the women because of body lice and diseases like Typhus. "But as soon as the women saw us American GIs coming through the gates," Dad told us, "they swarmed all over us, crying and cheering, and we couldn't stop them from hugging us."

He recalled that the women were wearing the same dresses they wore when they were first imprisoned by the Nazis as slave laborers, years earlier. Their shoes had fallen apart and were wired to their feet.

Before going overseas, my Dad was interviewed by a commander looking for soldiers fluent in European languages. During the interview, a Czech American officer from Chicago tested my Dad's conversational Czech and determined that he was "a backwoods country boy from Texas whose Czech was hardly understandable," and that he was not qualified to be a language interpreter in Europe.

However, the officer who had criticized Dad's Czech language skills could not make himself understood to the Czech-speaking women in the work camp. Dad understood them perfectly, and they had no trouble understanding him, so he was assigned as their interpreter and helped them board trains back to Czechoslovakia.

One of the Czech women asked him for his mailing address in Texas, and for the next several years she wrote letters to his grandfather, Anton Zigal, who lived in Plum, Texas, and could read and write the Czech language. She heaped praise on his grandson, Emil, for his kind and generous assistance with the women he helped to rescue and send home.

Here is a link to footage of the 20th Armored Division entering the town of Dachau, a couple of miles from the concentration camp. My Dad is probably in one of those Jeeps. The cheering onlookers are escapees from the camp. The Nazi guards and officers had abandoned the camp 48 hours earlier, and the prisoners began to escape:

https://www.youtube.com/watch?v=Rvi2rtnwaok

Following V-E Day, the 20th Armored Division returned to the U.S. in August 1945, and after a 30-day furlough to visit their families, the Division was sent to California for deployment to the war in the Pacific. While Dad and his outfit were training near Lompoc, California, the Japanese surrendered.

For its support in the liberation of Dachau, the 20th Armored Division was officially recognized as a liberating unit by the U.S. Army's Center of Military History and the United States Holocaust Memorial Museum.

Over the decades, Dad's uniform and hat fell apart, but we still have his dress shirt with the Tech 4 stripes and the colorful triangle patch indicating the 20th Armored Division. Unfortunately, we cannot locate his dress jacket with its "salad" of medals, including a Bronze Star.

Rest in peace, Dad. I miss you and Uncle Ed, Uncle Willie, and Uncle Ernie. You're all heroes in my book.

My Uncles in World War II

My Dad (Emil) and three of his brothers served in WWII.

My Uncle Ed was with the 36th "Texas" Infantry Division, which fought in North Africa and then landed in Salerno, Italy. His division sustained devastating casualties as they slowly fought their way through German lines (the Italians had surrendered and the Germans had taken over) to reach Rome.

My Uncle Willie was in the Air Force, building an air field in southern Italy for Allied bombers to land and refuel. He received word that his brother Ed was in Rome, and the military made it possible for him to visit Ed in the Eternal City.

A short time later, the 36th Division left Rome for southern France, and they battled their way northward to Alsace and eventually to Mannheim, Germany.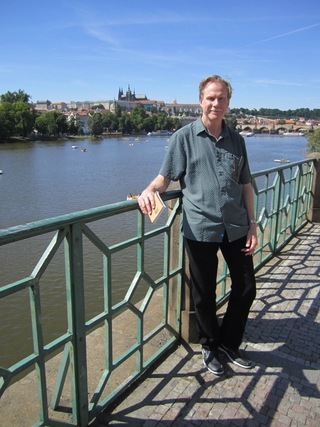 Interviews and Reviews of Many Rivers to Cross

Dallas Morning News, by Si Dunn: "Austin writer Thomas Zigal's powerful, engrossing novel is set in New Orleans in the immediate aftermath of Hurricane Katrina. Some of his characters risk arrest, urban savagery and death as they try to find and rescue family members and friends trapped in the city's horrific devastation. Other characters struggle to survive while awaiting help. And prisoners trapped in a parish jail, abandoned by their guards, must somehow break out or drown."

Texas Observer, by Geoff Rips

Austin American-Statesman, by Joe Gross

Kirkus, "Crossing Borders," by Joshunda Sanders

Rag Radio Interview with host Thorne Dreyer
October 4, 2013

New Orleans Times-Picayune, by Chris Waddington


Searching for Anton and Frantiska

The Zigal family is Czech. Or more precisely, Moravian. My great grandfather's name was Anton Zigal, and he and his wife, Fratiska (Frances), left Moravia for America in 1881 and settled in Fayette County, Texas.

In July 2012, I traveled to the Czech Republic with my wife and my sister and brother-in-law to search for traces of Anton and Frantiska in the old country and to look for living relatives. I will be writing about my experiences in short segments over the next few months.


The Late Great James Crumley

Legendary crime writer Jim Crumley died in September 2008, and I offered a few thoughts about my old friend in an article entitled "10,000 Barstools Ago" in Texas Monthly online. Here it is in its entirety.

10,000 Barstools Ago

When I finally caught up with Jim Crumley, he was sleeping on a couch in Chuck Kinder's elegant apartment in the Mission District of San Francisco, California, sleeping the heart right out of a fine spring afternoon.

It was 1975. His first detective novel, The Wrong Case, was imminent. I had never heard of James Crumley and few others had, either. Most of us had not yet read his masterpiece, One to Count Cadence, which appeared in 1969 and sold only 7,500 copies.

Crumley had driven down from Missoula, Montana, with Bill Kittredge to see their buddies Ray Carver, Max Crawford, and Chuck and Diane Cecily, Chuck's wife. In those days, there was a literary underground railroad between Missoula and the Bay Area, and it was well traveled by several unknown but exceptional writers who would become the best of their generation. As for the various personal intrigues between them all, it's a tangled tale that deserves a book of its own.

At Stanford, and later in San Francisco, Chuck's house was always the center spread of the moveable feast. Chuck and I had been classmates in the Stanford Writing Program (along with Scott Turow, April Smith, Michael Rogers, and several other writers who would publish successfully), and during a two or three year period in the mid-'70s, I made my way to Chuck and Diane's place at least twice a week to join the usual revelers around the table: Carver and his wife, Maryann, Crawford, Kittredge, the underground cartoonist S. Clay Wilson, and scads of colorful hangers-on and drop-ins, including the occasional Merry Prankster. It still felt like the '60s.

Jim Crumley and I hit it off because we were both from Texas and didn't particularly want to go back. As he wrote in the last sentences of his novel The Final Country, "But wherever my final country is, my ashes will go back to Montana when I die. . . . I'll sure as hell never go back to Texas again."

We had both come from small Texas towns (Mathis and Texas City); his dad had been an oil field worker and mine worked in an oil refinery; and our mothers had both been waitresses. Despite our age difference – I was in my mid-twenties and he was nearly ten years older – he treated me as a peer and a literary equal, which was preposterous because he was a major American talent who would soon revive the hardboiled detective novel in the post-Vietnam world. He would become a cult figure in France. A younger generation of crime writers – Dennis Lehane, Michael Connelly, George Pelecanos, Robert Crais – would revere that graveled Crumley voice and learn from the master.

As the years went by, Crumley and I had many misadventures in strange dark cities and country bars. We crossed into Mexico once or twice, up to no good. We met James Michener one night in San Marcos. We tried to stay in touch as our lives straggled off across the country. The way he lived his life took a toll on his body. A few years ago he lapsed into a month-long coma from which few of us thought he would recover. But he did. When I saw him after that, he was no longer that world-weary bad ass, leaning like a cocky bar fighter against a wall with a cigarette in his hand in the Lee Nye photo on the back of The Last Good Kiss. He was a white-haired old man stooped by age and illness, shuffling slowly through hotel bars with a cane. I refuse to remember him that way. Or gone. I'd rather think of him as living a reclusive poet's life in an obscure French village. Someday I'll get over there and we'll have another drink together.

A year ago, my son and I flew up to Missoula to visit Jim and his lovely wife (number five), the poet and Paisano fellow Martha Elizabeth. I knew he wasn't long for this world and I wanted to see him one last time. And I wanted my English-major son to experience what it was like to meet Hemingway. As we were having a meal on an outdoor patio in the dying light of a hot Montana evening, staring off toward the mountains that Jim loved so much, he looked at my son and said, "Danny, there's only one thing you have to remember in life." I waited. What was the old detective of the heart going to tell this young man? Never sleep with a woman who has more trouble than you do. Love is a .45 that won't jam. "Be polite," he said after a long pause and a slow bite of steak. Be polite.

Like his detective Milo, Jim Crumley was never going back to Texas again. But he still carried a little of the old soil in his soul.

As I walked out in Laredo one day

When I finally caught up with Jim Crumley, he was drinking beer with a beloved old poet named Richard Hugo at an umbrella table on the River Walk in San Antonio, Texas, drinking the heart right out of a fine spring afternoon.

It was sometime in the early 1980s. Jim and I had known each other for a decade by then and had agreed to meet at the Associated Writing Programs conference in San Antonio. He was teaching at the University of Texas at El Paso and I was an editor at UT Austin, two Texas boys who weren't especially fond of our home state but needed the dental insurance. We had met at Chuck Kinder's moveable feast of drunken writers in San Francisco in the mid-'70s and had become good friends. Chuck and his wife, Diane Cecily, were famous for their literary salon. On any given evening you could find amazing people gabbing around their kitchen table: Ray Carver and his wife, Maryann, Max Crawford, Bill Kittredge, Michael Rogers, Don Paul, the underground cartoonist S. Clay Wilson, and Crumley, whenever he drove down from Missoula. It always felt like the '60s at Chuck and Diane's.

Crumley and I hit it off because we were both from Texas and didn't particularly want to go back. We had come from small places (Mathis and Texas City); his dad had been an oil field worker and mine worked in an oil refinery; and our mothers had both been waitresses. Despite our difference in age – he was nearly ten years older – he treated me as an equal, as he did everyone.

Jim Crumley was a tough guy, part Milo and part Sughrue, but to most of us he was a damned likable friend, with that mischievous twinkle in his eye and a disarming giggle while he chewed at the corner of his droopy mustache. As the years went by, when I would meet him in a bar in Austin or Chicago or Los Angeles, he was always surrounded by admiring strangers and a bartender who knew his drink because Crumley always remembered the bartender's name.

On that afternoon in San Antonio, Richard Hugo was drinking with his many admirers and I didn't get a chance to say much to him. Writers from the conference kept dropping by to say hello to the great graying eminence. He had the look of a famous poet: large, slightly disheveled, professorial, quick with a humorous story. He was said to be the model for Abraham Trahearne in The Last Good Kiss. Crumley had derived the title from one of Hugo's poems and had dedicated the book to him – "grand old detective of the heart."

I don't recall how it happened exactly, but Crumley wanted to go driving around – one of his favorite pastimes – and soon a half dozen writers piled into his gigantic rental car, which felt like a Higgins Boat with bench seating. There was a distinct division between the cultures of the front seat and back seat. In front, Crumley at the wheel with a six pack nearby, me, and my Austin neighbor, a tall affable writer named John Works (Thank you, Queen Isabella) we'd bumped into on the River Walk. The three of us in the front seat were laughing and drinking (Don't do this, children) while Crumley wheeled us around the barrios of West San Antonio. But the three writers in the back seat were academic types, directors of creative writing programs, and they seemed nervous about missing seminar sessions and banquets, and equally uneasy about driving around in a rough neighborhood with a distracted drunk at the wheel. At some point Crumley declared, "Fuck it, we're going to Mexico," and headed the huge auto west out of town onto the highway leading to Laredo and the Rio Grande River, about two hours away.

He was serious. He wanted to eat dinner at the Cadillac Bar in Nuevo Laredo. I didn't care. I wasn't enrolled in the conference, anyway. I'd come to see Crumley. John Works thought it was a great idea. The three of us were still laughing and having a great time, but the academics in the back seat became vocally resistant as the car sped farther into the rocky Texas countryside toward Mexico. There was a session they wanted to attend. The banquet was at seven. Please turn the car around. This has been all in good fun but we ought to return to the hotel and freshen up before the cocktail reception. "Fuck the cocktail reception," Crumley said, "we're eating at this great bar I know on the other side of the river."

In time the protestations from the backseat became more intense. And at some point, about thirty miles outside of San Antonio, Crumley declared that he had to relieve himself. Works and I agreed it was a good idea. The three of us got out of the car to whiz in a cactus patch off the side of the road, and the academics locked the doors on us. They wouldn't let us back in until Crumley promised to take them back to town. It was a delicate negotiation on Crumley's part – he'd left the keys in the ignition and someone inside had threatened to crawl over the gargantuan seat and drive away without us. They spoke to us through rolled-up windows. Reluctantly, Crumley agreed. And back to the city he drove, laughing and drinking and telling stories all the way.

Later that evening, after everyone was happy again, I left the hotel and drove north toward Austin, and my car broke down near an Air Force base only a few miles out of the city.

All I could think of, as I rolled into a convenience store parking lot with a melted radiator hose, was that wonderful line from the Dick Hugo poem. The one that gave Crumley his title:

"Say your life broke down."

I called the hotel and located Crumley at the bar. "Say your car broke down," I began. I guess I wanted him to fire up the Higgins Boat and come get me. It was dark and desolate out by the Air Force base. An occasional carload of military brats cruised in for Twinkies and Zig-Zag papers. I remembered Hugo's line: "The tortured try of local drivers to accelerate their lives."

Crumley was amused by my situation. But he was intent on dancing with the poet Dara Wier in the ballroom just then and in no shape to drive out into the desolate night.

"No hard feelings, Zigal, but I can't make it, man."

So I spent the night in my car in the convenience store parking lot, waiting for daylight when I would call my brother in Austin and ask him to come after me with a tow chain. The store had a paperback display, and I bought a true crime book about two incestuous, murderous twin brothers and tried to read it by halogen light. At one point, a car full of teenagers pulled in next to my space and a girl saw me lying back in the driver's seat, reading a paperback about serial killers. "He's looking at me!" she screamed, and the car squealed off into the darkness.

I would see Crumley many times after that, other misadventures in other places. Over the years, I watched his health decline. My son and I visited him and his wife, Martha, in Missoula a couple of summers ago, one last time. We all saw it coming, but it still broke my heart when he died.

Several years ago I published a short story entitled "Second Lieutenants of Literature" (in the anthology Careless Weeds) in which I refashioned that ill-begotten trip to Mexico in fiction. When Crumley read it, he called and said, "Next time, put me in the damned story."

Though I am old with wandering, I think I'm going to drive to Laredo someday. To see if Jim Crumley is sitting in the Cadillac Bar on the other side of the river. Surrounded by admiring friends, telling those beautiful tales, drinking with a bartender who knows his drink because the old gringo always remembers his name.


Thoughts and Suggestions

On a University of Texas website called ShelfLife@Texas, I shared some thoughts about what I've been reading lately. See ShelfLife@Texas.

My old friend April Smith has written a wonderful article for PowellsBooks.Blog about the behavior and expectations of writers in the early 1970s versus now. April's new Ana Grey mystery is entitled Judas Horse. This is a superb series. Read them!


Reviews


Pralines and Prejudice

Thomas Zigal's The White League
A review by Jeff Salamon

AUSTIN AMERICAN-STATESMAN
Sunday, February 20, 2005

Writing is not necessarily a fungible activity. Drafting a legal brief doesn't qualify you to pen a limerick. Aaron Sorkin never wrote a Homeric ode worth a damn. Herman Melville couldn't come up with a fast-food slogan to save his life.

So props to Austin's Thomas Zigal, an accomplished mystery writer who is also a poet and a literary critic, and currently works as a speechwriter for University of Texas President Larry Faulkner. Toss in a onetime aspiration to the title of Great American Novelist, and you've got yourself an all-purpose scrivener.

A few years ago, Zigal made his name in the mystery world with a series of books about Kurt Muller, a sheriff in Zigal's former home of Aspen, Colo. But his latest book, "The White League," finds this restless writer changing stripes once again; it's set in New Orleans, another former home.

Zigal, a native Texan, lived in the Big Easy for only four years, but he seems to have soaked up plenty of culture and history while he was there. "The White League" isn't just an enormously entertaining read, it's deeply steeped in the city's history of race and class. It's a mystery novel, for sure, but a mystery novel by a guy who never seems to have abandoned his ambition to write the Great American Novel.

The first-person narrator of "The White League" is Paul Blanchard, a well-to-do heir to a local coffee fortune. The year is 1990, and Paul is experiencing a sense of mid-life drift that'll be familiar to frequent readers of post-war American fiction: He's bored at work, feeling his way through his marriage's loss of sexual passion and nagged by the suspicion that he doesn't deserve the adoration of his two young children.

So far, so Updike. But Zigal lifts things out of the slough of domestic drama by introducing Paul's old fraternity brother, Congressman Mark Morvant, a thinly veiled doppelganger for Louisiana's real-life white supremacist David Duke. Like Duke circa 1990, Morvant is trying to claw his way to respectability. He has undergone cosmetic surgery that makes him look conventionally handsome and has traded in the N-word for code words such as "our birthright."

By choice, Paul hasn't seen Morvant in years, so when the congressman shows up at his home one afternoon, he fears the worst -- and gets it. Morvant has decided to make a run for the governorship, and he wants Paul's help: a chunk of the Blanchard family fortune in campaign contributions and Paul's assistance in winning the support of The White League, a shadowy, perhaps mythical group of men who Morvant claims have been pulling the strings in New Orleans for generations.

Though Morvant assumes that Paul is a member of the League, Paul in fact knows nothing about the group. But his protestations are futile. Not only doesn't Morvant believe him, he knows a secret that forces Paul to do his bidding: Decades ago, when they were in college, Morvant helped Paul get rid of the body of a young woman who died, under scandalous circumstances, on the Blanchard property. If Paul doesn't do his bidding now, Morvant threatens to reveal everything and bring Paul's comfortable, if hollow, life crashing down. (There's a glaring hole in the otherwise well-constructed plot that Zigal never addresses: If Morvant reveals Paul's secret, wouldn't he reveal his own hand in the sordid affair, and thereby ruin his own political aspirations?)

Half-convinced he's on a fool's errand, Paul begins a search for the League that forces him to face the city's seamy underside, which he has spent most of his life looking away from.

Along the way, we meet Paul's beloved maid, Rosetta Jarboe; her son Jaren, who is serving 30 years in prison; Paul's wife, Claire Benjamin, a descendant of New Orleans' Jewish elite; his sister, Kathleen, whose quasi-racist politics never quite alienate him (perhaps because he's well aware that he has never let his more-enlightened attitudes cost him anything); and his gay brother, Perry, with whom he has a distant relationship.

We're also dipped into the racial politics of New Orleans -- the men's social clubs, where bigotry lingers like cigar smoke, and the segregated Mardi Gras Carnival "krewes."

This is, in short, a novel of manners -- New Orleans, with its iron-clad racial strictures and ossified class structure, being perhaps the last major American city where a traditional novel of manners could be set. Zigal captures this particularly well during a dinner party at the Blanchard home, where the guests blithely, and with barely a racial fig leaf, discuss "The Crime Problem" -- while being served by a retinue of black servants. Outside their doors, a black policeman watches over their cars for some extra cash.

All of which seems oppressive and inescapable -- to both the reader and to Paul, who is too passive to do anything about it. "Did we ever truly escape our parents and who they wanted us to be?" he wonders. "The older I got, the more I became like them in small hideous ways."

The rub, of course, is that by 1990, New Orleans was finally on the brink of change. At the time, in both the novel and real life, the city had already elected its first black mayor. And The White League had finally met its match: Wilhelmina Phillips, a black city councilwoman who pushes to integrate the social clubs and Carnival krewes.

Zigal skillfully weaves all this together -- high society, low crime, racial tensions, city politics, backroom skullduggery, sibling rivalries -- with a sure hand. (Though his inclusion of Balzac's observation that "Behind every great fortune lies a hidden crime" as an epigraph is a rare misstep. Thirty-five years after Mario Puzo cited this bit of wisdom at the outset of "The Godfather," it has permanently hardened into cliché.) Toward the end, the book even provides a couple of last-minute surprises that not only make this a first-class mystery but also tell us something important -- revelatory, but hardly implausible -- about Paul and the people around him.

The only thing that keeps "The White League" from being completely successful as more than a very accomplished entertainment (a status that its observations about race and class elevate it above) is the steadiness of Paul's voice. Though Paul and the reader are well aware of his desperation, the first-person narrative never falters. Even as he sinks to depths we thought beneath him, Paul remains a likable, self-deprecating companion.

Still, most mystery novels would give their McGuffin to be held to such standards. "The White League" is a satisfying mystery novel, but it's something else, too: a Really Good American Novel, period.

jsalamon@statesman.com; 445-3610


Bad Doings in the Big Easy

By CHRIS VOGNAR / The Dallas Morning News
March 20, 2005


Racial hatred rests uncomfortably at the roots of American history, a cancer lurking just beneath the surface of who we are. Thomas Zigal's page-turning novel The White League presents this condition in microcosm as its flawed hero, a wealthy New Orleans coffee magnate, goes digging through his city's past in an effort to ward off demons from his own.

His name is Paul Blanchard, a decent, go-along-to-get-along rich man with a nasty skeleton in his closet and a bayou-sized burden on his conscience. Years earlier, a white supremacist frat brother named Mark Morvant helped Paul out of a bad jam. Now the frat brother has grown up to be a dangerous man with his eyes on the governorship. He wants Paul's patronage; more than that, he wants Paul to deliver the support of a shadowy white power operation called The White League, thought to have faded away decades ago. Paul's family may have White League connections, and Morvant is ready to play blackmail if Paul doesn't procure the League's backing.

Mr. Zigal, an Austin resident with Louisiana roots, has written a whip-smart novel with a vivid sense of place and a finely detailed gallery of characters. The White League is a crime novel of sorts, but it transcends the confines of genre fiction while maintaining the narrative thrust of a classic detective story.

Paul is engaging enough to root for (especially given his opponents), but compromised enough to keep our interest. Far more progressive than his peers and enemies, he remains haunted by the blood on his hands, and he knows he's largely responsible for the incarceration of his childhood friend and the heartbreak of the guy's mother, Paul's former nanny.

Mr. Zigal deftly interweaves Paul's crisis and quest for White League info with tidbits of New Orleans history and political intrigue. He also juggles a vast assortment of secondary characters, including Paul's gay brother, Perry, who knows a little something about that November Dallas afternoon in 1963; Kathleen, Paul's sister, on intimate terms with Paul's blackmailer; and James Castle, a veteran black cop who seems to know Paul has something to hide.

It all unfolds under a dark shadow of secrecy, stage managed by good ol' boys eager to see the Old South rise again. The conspiracy elements aren't always believable, nor is Paul's occasional gullibility in the face of terror. But the parts click together smoothly, and the atmosphere is as thick and sticky as a New Orleans summer day. The White League is a crisp evocation of ghosts swept under the rug but never exorcised, always ready to remind us of former sins.